When Stress Strikes You, Rise with Creative Means!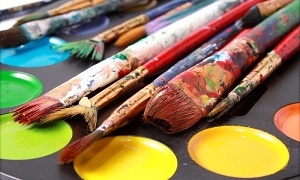 Stress and depression, these are two of the most common terms you will hear in UAE. The burden of office work, the disturbance in social life and budget issues, they all have resulted in a stressful and depressed cluster of human beings. Even if we face happiness, we never wholly relish those joyous moments just because of stress. But you are brave and I know that! You all can get into some creative means to rise again as powerful fighter. Let's see what tips are mentioned below:
Make Songwriting Your Best Buddy - Songs, everyone loves them. They are the true stress relievers. Although each one of us has a different taste in music but come on, you adore to listen to music at some point or another. Get into songwriting. You do not have to be a professional writer or an artist to be a songwriter. Instead of worrying about worldly affairs, keep yourself busy in creating songs. It's up to you that what sorts of lyrics you desire to write. Depending on the pain you are in, go for sad, aggressive and even funny pieces. You can buy some music products online from famous UAE shopping sites like Easyshopping.ae and Gadgetby.
Try to Play with Colors - Colors have the magically charm of giving comfort. The more is the variety, the more your mood will be boosted. Painting is a terrific idea. Draw anything that you love like the face of your loved one, natural scene or any object. Do good research and give this stuff some time. In this way, you will stay busy and will forget your worries.
Put on Cosmetics that You Never Tried Before - You apply cosmetics not just to impress other people but this application is also for calming yourself. Due to increased stress at work and on other issues, you need to be creative on your makeup. Try using colors you never applied before like combine purple lip color with white eye shadow or go for blue mascara with nude lipstick. Take selfies and keep them for fun memories.
Think Creatively for Your Career - That regular and boring job, it's not enough for your life. Due to increased competition and demand of highly skilled people, you have to get out of your comfort zone. Think creatively. What new career path is suitable for me? What tasks should I perform to excite myself? What different should I learn? These all questions are based on just two terms: creativity and stress relieving.
Picture Editing, It's Fun! - Rate of Stress in UAE is enhancing and so does the innovation in picture editing! This act is fun, no I guess it is funny because you can manipulate photos in different ways. Instead of worrying, just grab a picture of your friend, edit it and send it. You will soon observe how interesting activity this is!
So get rid of stress and find exciting creative ways to keep yourself busy.
We accept Guest Posts